Globalization of Minimally Invasive Surgery Training
Claudia Shi and Hee Na Cho | March 31, 2023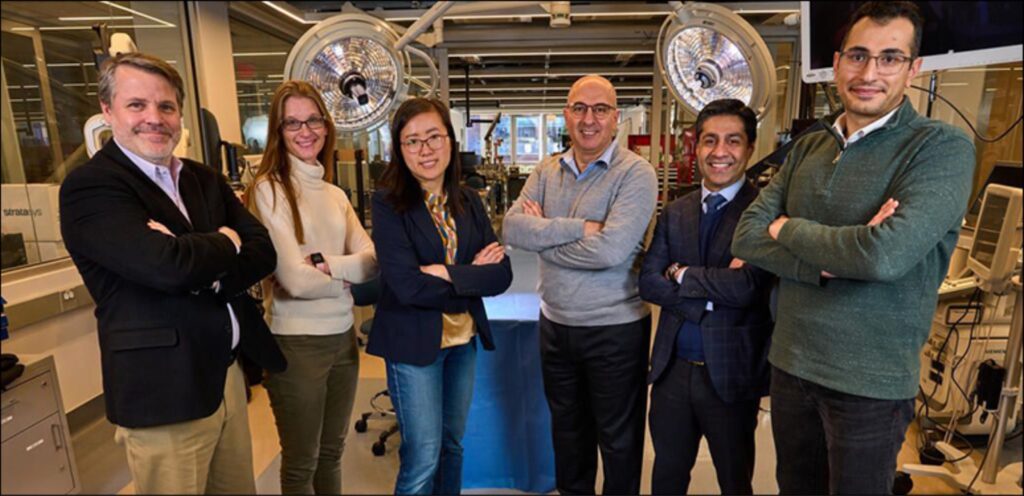 With the pressing need for training medical professionals in countries like Kenya, after recognizing the problem, Dr. Nabil Simaan and a group of experts from the Vanderbilt Institute for Surgery and Engineering (VISE) are currently developing a low-cost training simulation tool to educate surgeons on performing laparoscopic surgeries. Having received a multi-million grant from Wellcome Leap at the beginning of the year, which is an organization that funds unconventional programs that potentially lead to breakthroughs in human healthcare, this VISE interdisciplinary team is utilizing robotics technology to help global patients gain stronger opportunities to have access to safer and less costly surgical interventions.
Dr. Nabil Simaan is currently a professor of Mechanical Engineering at Vanderbilt. He specializes in combining existing robotic systems with innovative surgical robotics and interventions to enable safe and effective interactions between technology and human anatomy. He puts his research emphasis on minimally invasive surgeries by investigating robotic movements within confined spaces. His research topics include flexible robots and mechanisms, applications of algebraic geometry and line geometry in robotic designs and mechanisms, and optimal path planning robot actuation.
Lead by Dr. Simaan, this VISE program belongs to the specific "Surgery: Assess/Validate/Expand" (SAVE) initiative of Wellcome Leap. SAVE points out that lack of global access to surgery causes 1.5 million deaths at minimum annually. Therefore, a fundamental change is required to turn the wheel around. With a $50 million funding, SAVE is looking for programs that demonstrate the ability to train non-MD professionals with laparoscopic surgery, accelerate the training timeline of MD surgeons, and reduce the surgical complication rate by at least 50% through post-operative monitoring.
In Kenya, for example, medical professionals who are equivalent to the role of physicians who are qualified to perform surgeries only make up 7% of the healthcare population. That implies the surgeon to people ratio in Kenya is around 1:162000. Therefore, the long-term influence of the training program is to minimize the access gap between surgeons and patients in developing countries by educating medical professionals more efficiently.
According to Dr. Simaan, their training tool is basically a simulation program that mimics surgical environments. Using multiple technologies such as machine learning, eye-tracking, haptic feedback, enhanced imaging, and soft-tissue modeling, the program creates a virtual setting that responds to what the training surgeon does and provides information to surgeons regarding if their procedures lead to the right results. Speaking long term, this project hopefully will prove how capable the simulation tool is, expand the number of medical professional surgeons globally, and create a bigger apprenticeship platform for surgeons training to perform cholecystectomy, appendectomy, and peptic ulcer repair procedures with minimal invasiveness.
References
Save: Wellcome Leap: Unconventional projects. funded at scale. Wellcome Leap: Unconventional Projects. Funded at Scale. | Leap builds bold, unconventional programs to deliver breakthroughs in human health. Our goals are ambitious. So are our timelines. (2023, January 6). Retrieved March 15, 2023, from https://wellcomeleap.org/save/
Shapiro, M. (1970, February 6). Team of Vanderbilt experts selected to develop low-cost training tools aimed at expanding global access to minimally invasive surgeries. Vanderbilt University. Retrieved March 15, 2023, from https://news.vanderbilt.edu/2023/02/06/team-of-vanderbilt-experts-selected-to-develop-low-cost-training-tools-aimed-at-expanding-global-access-to-minimally-invasive-surgeries/
wp0admin. (2018, July 16). Nabil Simaan. Vanderbilt University. Retrieved March 15, 2023, from https://www.vanderbilt.edu/vise/visepeople/nabil-simaan/
Cover image